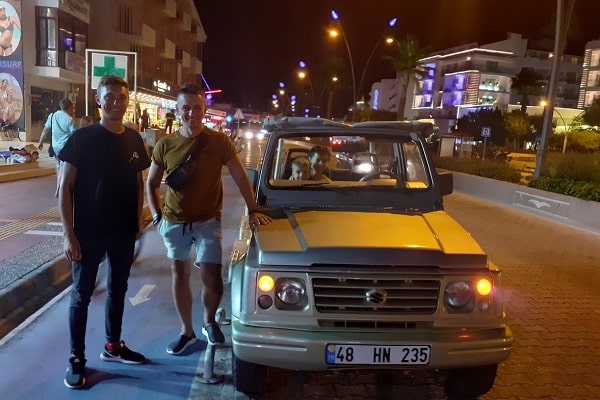 Things To Know When Renting A Car In Marmaris Turkey
Tips for Booking a Rental Car in Marmaris Turkey
Here are the top brands of cars that are rented in Marmaris. Please note that the supplier sometimes gives the car brand as an example. However, when you rent a car, one person reserves a car of a certain class. This means that the make and model of the car are given as one of the possible options for renting a car.
Things To Know When Renting A Car In Marmaris Turkey. This block shows the cheapest cars of different classes to understand their prices. The above prices are based on a search by our customers in the past three months. Please note that we cannot guarantee the exact price stated above, as the price of renting a car from our suppliers changes constantly depending on the balance of supply / demand, seasonality of the market and other factors.
The passport, residence permit, driver's license, motor vehicle license and green insurance card must always be carried.
The green card serves as proof of insurance and makes handling easier in the event of an accident. The insurance card shows which countries have insurance coverage for your car. Check whether your travel destination Turkey is approved there and whether the Asian part is also insured. If this is not the case, please contact your insurance company before you travel to Turkey.
General information
The insurance is not related to the driver, but to the vehicle. Your car is thus insured - regardless of who controls your car. So all passengers are also insured.
English driving licenses abroad
English nationals can continue to use the English driver's license in Turkey for a maximum of six months from the date of entry. After the six months have passed, you must exchange your driver's license for a Turkish driver's license.
Car rental in Marmaris Turkey: what you should know?
If you want to make the best choice, look for a vehicle reservation before the tour. Compare options, review documents, and study the agreement clearly. Be sure to ask anything that bothers you. Drive in advance, test the rental car carefully, and make sure you have a rental voucher and the address of the representatives from whom you rent the transport.
How can I get cheap car hire in Marmaris?
Avoid renting cars without comparison when the demand is high: for example at airports or in hotels. You need to find their off-site locations where you can find cheap car rental. Of course, it is always worth checking some locations and comparing them all. Avoid renting cars on vacation in Marmaris.
What is the best car rental company in Marmaris?
To choose one of the best rental companies, you should compare some key facts about all of the proposals. After reading all the reviews, choose the best rental car agency. It should include one or two profitable promotional offers, cheap prices, and offers that other agencies don't suggest. There should also be programs that let you rent a car for a few hours. like ours aegeanrentacar.com
How can I find car rentals near me in Marmaris?
To find the best rental car partner nearby, you need to compare the list. Also look for the best car rental tariff for transfer from different locations. Use sites in your area to find out which services are available from rental companies in your area. Try to work with agencies that mainly have a variety of rental car classes.
How a gas price in Marmaris Turkey? What fuel policy is there?
You should be aware of the fuel policy and fuel prices as this means that you are likely to choose the right car and will not be overloaded. You will know how much petrol you pay for your car. Control over everything is a guarantee that you won't be surprised by the additional costs and refueling when you return the car. You can pay for services in different ways: with cash / credit card, Visa, Maestro, MasterCard, ATM, PayPass.
How old do I have to be to rent a car in Marmaris Turkey?
Many rental companies will set strict age restrictions for rental cars. You can also charge a young driver a surcharge if they are under 18 years of age. It doesn't matter how old you are, but it is important to know all the age requirements if you are under 21. And don't forget that this can affect the cost of your vehicle reservation even if you are under 25.
Do I need insurance to rent a car in Marmaris Turkey?
If you rent a car, pay attention to the insurance coverage and do some preliminary research. This affects your choice in favor of profitable coverage for you. Ask about your personal liability, you will find protection against damage and injuries.