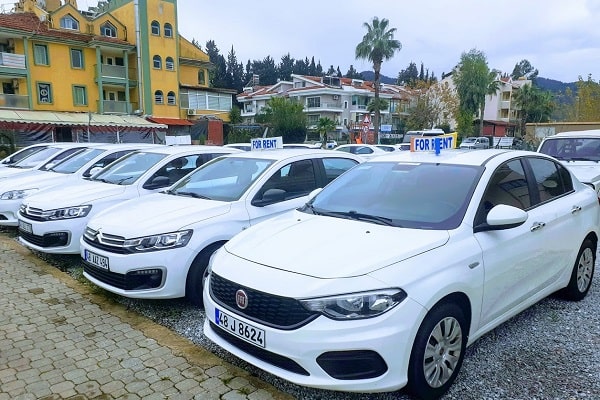 Choose the perfect rental car for Marmaris
Where should you book your rental car in Marmaris?​
Do you want a rental car that perfectly matches your wishes and needs in Marmaris? Then you are exactly right with us! On our rental car you can use the search mask to set various filters and thus find the right rental car for your trip.
Few people like to travel around the country alone in a rental car on their vacation. A road trip is much more fun when you can share the experience with friends or family. For this reason, we have the option of additional drivers. If you are tired from driving or just want to enjoy the scenery, just give up the wheel. All you have to do is book an additional driver for the rental car. The driver only needs to show his ID and driver's license when picking up the rental car and the road trip can start.
Discover more places in Marmaris Turkey with our car rental
In addition to Marmaris Turkey has other exciting places that you can easily reach with a rental car. For example, what do you think of a beach holiday in Fethiye? In the south of Turkey you will find wonderful sandy beaches that invite you to relax. If you are tired of lounging on the beach, you can explore the surrounding landscape with the rental car. Dalyan Turtle beach is also worth a visit. City is located on the Aegean coast where you can swim on the sandy clear beaches. Look forward to an unforgettable journey by car hire in Marmaris or Icmeler.
Where is the cheapest car hire in Marmaris & Icmeler?
The cheapest rental car is in Marmaris is in January. The price is 38% cheaper compared to the rest of the day and a rental car only costs 20 EUR per day. The most expensive month is July. If you are looking for a specific vehicle, an economy rental car in January may be the one for you. If you need more space for your family, a larger vehicle with more than 6 seats is usually the cheapest option in November. The price of a rental car in Marmaris may fluctuate due to various factors, including the offer, the popularity of a vehicle and how far in advance you book your rental car.
Is it worth booking a rental car in Marmaris?
With a rental car in Marmaris you are flexible. It is particularly useful for tourists who do not plan a standard vacation and want to be independent of public transport. No matter whether you want to transport many bags back to your accommodation after a shopping trip or simply looking for a convenient means of transportation for the whole family, your rental car will not let you down. If you want to explore the surrounding area in addition to the sights in Marmaris or Icmeler.
You can plan day trips to beaches on the Turkish Riviera, for example. Other interesting places such as Dalyan, cleopatra beach, fethiye,datca or pamukkale are within a few kilometers and can be reached quickly by car. A cheap rental car in Marmaris is definitely worth it.
How much does it cost to rent a car in Marmaris?
Rental cars in Marmaris cost around 25 EURO per day on average. Users who searched for rental cars have already found prices from EUR 25 up to EUR 60 per day.
What is the cheapest car rental company in Marmaris?
Users have found that aegeanrentacar.com offer cheaper car hire prices. Search and compare with aegeanrentacar.com all car rental deals.
STATIONS AT MARMARİS DALAMAN AIRPORT AND SURROUNDINGS
Are you planning a vacation in Marmaris Turkey? We have the right rental car for you. With over 10 car rental locations you will also find the right location near you. Simply click on the rental car station on the map below and find out more about the address and contact details for the selected car rental in Marmaris Dalaman Airport.
FAQs car hire in Marmaris Turkey
Can I pick up the car earlier?

Yes, in most cases you can pick up the vehicle earlier than the confirmed time. Please note that this depends on the availability of the reserved vehicle. If you change your rental plans in advance, you can cancel your booking at any time via the customer page "My booking" in the desired pick-up time to change. Any change you make to your booking will likely change the total rental price.

When should I pick up the car?

Try to pick it up as close as possible to the time specified in the booking process. If you are arriving late, contact the car rental company at the number on your confirmation slip.

What happens if my flight is delayed or canceled?

If you have yours Car rental company can add your flight details to your booking Track the flight and the car may hold some time for you. If your flight is delayed, it is important that you check out so quickly
as possible with the phone number given in your confirmation slip..

What should I do when I get my car?

Check the car Walk around the car and lookInside to check if it is damaged. If you have any find, ask the representative of the rental car company to do this in your. Note lease. Take pictures so you can be sure know how the car was in the beginning. Check the Fuel Consumption Open the cap to see if it is petrol or diesel. Gasoline could have "95" on it. If you are not sure what fuel the car is using, ask
the agent before you leave. Check out The dashboard on rental car fuel is usually "full to full" provided that means you are using a full Start the tank and bring the car back with the tank full. Rotate
The key to check if the tank is full (and the Headlights work).

How do I bring the car back?

The pick-up address of the car rental company and the exact time of the appointment are stated in your confirmation slip. However, we strongly recommend that you agree the delivery details with the rental car representative when you collect them. Your car will likely be checked upon return, or there will be a box where you can return the key if no one is available. We recommend that you keep all documents you receive.

Can I return the car after my drop-off time?

Of course you can. If you haven't started your rental yet, you can use the dates change our customer page "My booking" and change your reservation. Any changes you make to your booking will likely change the total rental price. When you have picked up your car, please contact the Car rental company if you want to extend or make your booking make a new reservation online for the rest of the days.