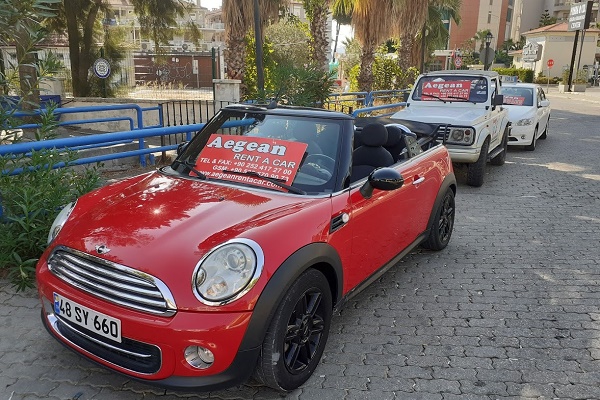 Top tips for car rental in Marmaris Turkey
Rent a car in Marmaris Turkey
Beautiful coastal landscapes, oriental flair and a millennia-old history - MarmarisTurkey is rich in particularly beautiful cultural and natural treasures and not without reason one of the most popular holiday destinations worldwide. After a long period of upswing, the country has also established itself economically as an important business location. Holidaymakers and business travelers alike benefit from the enormous selection of affordable car rental companies on site. Use the aegeanrentacar.com rental car comparison to find the right vehicle for your trip to Marmaris Turkey.
Which traffic rules have to be observed in Marmaris Turkey?
The traffic rules in Marmaris Turkey are quite similar to those in England, but travelers have to consider some special features, especially in urban traffic and in rural areas. In cities, drivers who have rented a car should always drive carefully and cautiously, even with green or general right of way regulations. The speed limit on the well-developed toll road and expressway network in Turkey is usually 110 km / h, on country roads it is 90 km / h. Often only 50 km / h are allowed in closed towns. Right-hand traffic prevails in Turkey and a general seat belt requirement applies to all vehicle occupants. Driving under the influence of alcohol is prohibited.
FAQs about renting a car in Marmaris Turkey
How much does it cost to rent a car in Turkey?

On average a rental car in Marmaris Turkey costs $35 per day.

What is the most popular rental car in Marmaris?

Economy (Fiat egea or similar) is the most frequently booked rental car type in Marmaris

What is the cheapest car rental company in Marmaris?

Our car rental company aegeanrentacar.com is the cheapest company in Marmaris Hyundai ($30/day), Fiat egea ($35/day) and Peugeuot 301 ($35/day).

What is the best rental car company in Marmaris?

Marmaris Aegean rent a car company is the best car hire company in and around Marmaris.

How can I find car rentals near me in Marmaris?

Take a look at our extensive car rental location at map to find our rental company.

Where should I rent a car in Marmaris?

Aegeanrentacar company offers the best services and prices in Marmaris.

How much does it cost to rent a car for a week in Marmaris?

On average a rental car in Marmaris costs $210 per week ($30 per day).

How much does it cost to rent a car long term for a month in Marmaris?

On average a rental car in Marmaris costs $750 per month ($25 per day).

What is driving like in Marmaris?

In England and Turkey, the traffic rules are pretty much the same. The only difference is that the rules are not observed in Turkey. So go on an adventure if you are driving in this country. But nothing is eaten as hot as it is cooked. So don't be afraid, on Turkish roads you just have to adapt to the Turkish mentality and everything will go smoothly.

How old do you have to be to rent a car in Marmaris?

Yes, it is generally possible to book a rental car from the age of 18. However, you cannot book every car and have to pay fees. If you follow a few tips and instructions, you can also easily explore the world as a young driver.

How are gas prices in Marmaris?

LPG has a lot of advantages to offer and is a good alternative to petroleum and diesel for both economic and ecological reasons. Above all, the low price is crucial for a conversion to LPG for many drivers. In Marmaris Turkey you are currently paying:

60 cents on average for one liter of LPG
for a liter of super 1.40 euros
for a liter of diesel 1.20 euros

What are the speed limits in Marmaris Turkey?

50 km / h within built-up areas
Country roads 90 km / h
Motorways 110 km / h