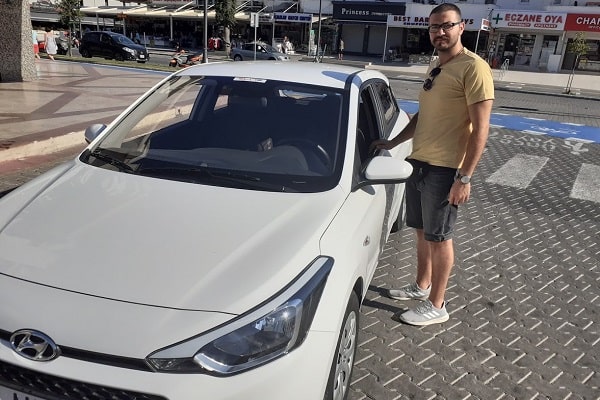 Is renting a car in Marmaris Turkey a good idea?
Is it safe driving in Marmaris Turkey?
If you plan to travel to Marmaris Turkey and rent a car there, your top priority is to get adequate insurance. It often seems that there are no traffic rules. Depending on where you go on holiday in Turkey, it is sometimes a little better - but never on a par with the usual road traffic in England. The driving style of the residents is not to be trifled with, especially when it gets dark. So that you do not come at a expense, it is advisable to fully protect yourself and rather pay a little more at the beginning than too much at the end. For this reason, comprehensive insurance is mandatory.
Traffic rules in Turkey are similar to those in England..
Nevertheless, there are some things you should definitely inform yourself about when driving in Turkey!
In this post I have summarized the most important tips:
These include speed limits, alcohol limits, emergency numbers, behavior in the event of an accident and important general advice on traffic behavior in Turkey.
Driving in Marmaris Turkey
Important traffic rules
Drive to Turkey with your own car
Accident in Turkey
important phone number
Book a rental car
The most important information about driving in Turkey
Driving in Turkey is comparable to the south of Italy:
The horns are one of the most important parts of the car, it is accelerated and every other car has some metal damage.
Even if there are valid traffic regulations on paper, the Turks often consider them only as recommendations.
Traffic fines that are comparable in their amount to Germany do little to change this. This is particularly true in areas outside of large cities.
In the tourist areas, the roads are better developed and the traffic rules are observed more closely.
As soon as you get to the east of Turkey, you should make sure that the horn from your car works!
Examples are situations in which police officers want to cross a zebra crossing. Hardly any of the drivers will step on the brakes and let them cross the road. As soon as they start to check, traffic fines are hailing. The whole thing is a little strange in itself.
Car traffic in Izmir
They are usually more reserved towards tourists. That's why you still don't have a free ticket to break the traffic rules!
What should you pay special attention to?
Danger spots along the streets are rarely marked. There are hardly any signs warning of potholes, game changes or falling rocks.
Invisible, winding roads in the country are particularly dangerous. There, just like the Turks, you should honk before every curve to warn overtaking cars.
Dangerous overtaking maneuvers are part of everyday life in Turkey!

In the rural areas there are many cars that would no longer be classified as roadworthy in Germany. This includes, for example, poor exposure of the car.
Don't let traffic lights unsettle you! Even if half a dozen drivers start honking because they didn't leave after a second.
Motor vehicle drivers and bus drivers are often tired. There are legal regulations on maximum working hours on paper, but they are hardly observed. This can result in dangerous driving behavior.
The easiest way to find petrol stations is to use the Turkish flags. Most have their own flagpoles.
If you want to go on a road trip in Turkey, you can find some good tips in the World Travel Forum.
Important traffic rules
In Turkey there are basically the same traffic rules as in Germany. Of course, the details are different. I have summarized the most important provisions here.
Meaning of information signs
In Turkey, the traffic signs in the tourist areas are usually also written in English. Nevertheless, it makes sense to know the Turkish names of the most common signs.
Dur = Stopp
Dikkat = Caution
Tek Yön = one way street
Sollamayin = No passing
Park Yapılmaz / Park Etmeyiniz / Park Yasak = No parking
Tamirat = construction site
Yavas/Yavasla = Slow / slow down
Bozuk Satıh = Bad road
Tehlikeli Viraj = Dangerous turn
Şehir Merkezi = City center
Hastane = Hospital

Benzin Istasyonu = Gas station
Expressway D-400 in Alanya-Tosmur towards Gazipasa
Legal regulations
Speed ​​limits
In towns and cities 50 km / h apply to car and motorcycle drivers. Cars with trailers and teams may drive a maximum of 40 km / h.
Outside of localities, cars are allowed to drive 90 km / h and motorcycles 80 km / h. For cars with trailers and teams, a speed limit of 80 km / h applies.
On motorways, the speed for cars is limited to 120 km / h, motorcycles to 100 km / h and teams to 110 km / h.
Seatbelt duty
Seat belts are mandatory in Turkey! It is enforced by the police.
Alcohol limit
As a car or motorcycle driver, you have a 0.5 per mil limit. If you drive to Turkey as a professional driver, you must not exceed 0.2 per thousand.
The alcohol limits are interpreted very strictly in Turkey! In addition, you also get problems if you cause an accident and are alcoholized below the limit values! It is best not to drive a car under the influence of alcohol at all in Turkey.
Drive to Turkey with your own car
As the first and most important regulation you have to pay attention to the insurance protection of your car! The green card is only valid in the European part of Turkey! As soon as you have traveled to Anatolia via the Bosphorus, you need your own insurance. You can either take it out directly at the border for 30 to 90 days or ask your own insurance company if it has cheap offers.
Accident in Turkey
If you are involved in a car accident in Turkey you should always call the police (155).
Insurance companies require a police report for liability or comprehensive insurance. This applies to rental cars as well as to your own car. As a reminder: in the Asian part of Turkey you need your own insurance!
The police will conduct an alcohol test and begin the course of the accident. The name, address, insurance, policy number and the license plate of the opponent are recorded. You should also record this data yourself and of course request a copy of the police report.
Also take pictures of the braking marks on the road and damage to your own and other people's cars.
arrest
If people have been injured, the police can arrest them. They are usually a little friendlier towards tourists.
You are entitled to an interpreter! In the event of an arrest, you should always call the German embassy! It will help you! Alternatively, the embassy of any other EU country can help you.
What already applies in Germany is even more important in Turkey: don't sign anything you don't understand! Don't sign a debt admission without consulting a lawyer!
Important phone number
Die wichtigsten Telefonnummern die du in der Türkei kennen sollst:
Book a rental car in Marmaris Turkey
Basically you can book cars on the our website.
I would recommend reading the guide linked above. There are a few things you should definitely keep in mind! In short: negotiation, insurance, useless supplementary insurance!
In summary
All tips I give are basically without guarantee. Laws can change briefly. If the occurrence should, I will add the appropriate parts as soon as possible.
If you just want to book a rental car once to get to sights or take a road trip on the south coast, you don't have to worry.
However, you should always behave passively when driving. This is particularly true of busy streets in large cities and remote regions in Anatolia.
An overview of all tips and guides on Turkish Riviera Vacation.de can be found here.
Do you have some own tips for driving in Turkey or do you disagree? Then share them in the comment column below. Of course you can also ask questions there. I will answer you as soon as possible.
Tips before Renting a Car in Marmaris Turkey
If you get into the rental car in Marmaris Turkey and explore the landscapes away from the cities, you will get to know the country steeped in history from a completely different angle. We have collected a lot of tips for your rental car tour through Turkey - from booking to tolls to the most beautiful route.
Before you start your rental car: Take a close look at the car, preferably together with an employee of the rental company. Photograph obvious damage, for example with a cell phone camera. Let the landlord confirm the existing and any newly discovered damage in writing. Check that the rental car is functional and fully equipped. The equipment includes spare tires, tools, first aid kit and warning triangle. Check whether the car is actually full.
Return tips
Not a good idea: just leave the car when you return it and throw the key in the mailbox. It is best to return the car only within the opening hours. Take a look at the car with a member of the rental car company. Document new damage in a handover report. Important: get a copy with you! Don't forget to claim a deposit paid at the start of the rental.
Why Car Rental in Marmaris Turkey
Turkey is sheer and simply too big to fully explore. But the west of Turkey alone offers exciting cities, fantastic landscapes and wonderful beaches for a two-week road trip. The numerous bays and green, rocky landscapes along the west coast of Turkey create a real feel-good paradise. The coastal town of Marmaris is particularly beautiful, where, given the white limestone houses with the blue windows, you almost feel a bit like in Greece. Sun worshipers, culinary fans and party people (Marmaris is also known as Turkish shinning) get their money's worth here.
No matter whether you need a rental car in Turkey for your vacation or business trip, if you rent a car from aegeanrentacar.com in Marmaris Turkey, you are always mobile at a great price. In addition to a low price, you always stay flexible with our tariffs. So it doesn't matter if your travel plans change spontaneously or something comes in between. Anyone who has not taken out travel cancellation insurance often remains on the cancellation fee, because the insurance basically does not apply to rental cars. However, our customers enjoy the advantage of rebooking or canceling the rental car free of charge up to 48 hours before renting in Marmaris or Icmeler Turkey.
Is it easy to drive in Marmaris Turkey?
The roads in western Turkey are particularly well developed and comparable to those in other European countries. Only in remote, less touristy regions do you encounter bumpy roads with potholes and rockfalls - and unfortunately, these are rarely marked by signs ("Bozuk Satih" for "bad road conditions").
Caution is also required in the large Turkish cities. There is a lot of honking in Istanbul and Co. and the traffic rules are at best seen as recommendations. Our tips: It is best to look for a hotel with a parking space or to stop in one of the guarded (!) Parking spaces. Do you want to discover the country on your own during your vacation? Then grab a rental car and explore the most beautiful corners of your vacation paradise completely independently and freely. So that you can start your self-driving adventure with confidence,